Introduction
1. The Rich Traditional Pakistani Bedsheets
1.1 The Historical Significance
1.2 Cultural Diversity
2. The Artistry in Pakistani Bedsheets
2.1 Intricate Embroidery
2.2 Vibrant Colors and Patterns
3. Materials Used in Traditional Pakistani Bedsheets
3.1 Cotton
3.2 Silk
4. Popular Types of Pakistani Bedsheets
4.1 Sindhi Ajrak Bedsheets
4.2 Multani Khaddar Bedsheets
4.3 Chitrali Patti Bedsheets
5. Incorporating Pakistani Bedsheets into Your Bedroom Decor
5.1 Bedding Sets and Accessories
5.2 Color Coordination and Styling
6. The Benefits of Using Traditional Pakistani Bedsheets
6.1 Comfort and Breathability
6.2 Supporting Local Artisans
7. Care and Maintenance of Pakistani Bedsheets
7.1 Washing and Drying
7.2 Storing and Preservation
Conclusion
FAQs
1. How do I choose the right size of Pakistani bedsheets?
2. Are Pakistani bedsheets suitable for all seasons?
3. Can I find Pakistani bedsheets online?
4. Are these bedsheets hypoallergenic?
5. Can I use Pakistani bedsheets in modern or contemporary decor?
1. The Rich Traditional Pakistani Bedsheets
Pakistani bedsheets are deeply rooted in the country's cultural and historical heritage. For centuries, textiles have played a crucial role in the lives of Pakistanis, serving as symbols of status, identity, and tradition. Bedsheets, in particular, have a special significance in Pakistani culture. They are used for sleeping and decorative purposes during festive occasions, such as weddings and religious celebrations.
1.1 The Historical Significance
The history of Traditional Pakistani Bedsheets can be traced back to ancient times. Archaeological excavations have revealed the existence of textile fragments dating back to the Indus Valley Civilization (2500 BCE – 1500 BCE). Bedsheets were also mentioned in ancient Sanskrit texts and Mughal chronicles, indicating their long-standing importance in South Asian culture.
1.2 Cultural Diversity
Pakistan has many different cultures and customs, and this diversity can be seen in the textiles produced there. Each region of Pakistan has its unique
3.1 Cotton
The most popular fabric for Traditional Pakistani Bedsheets is cotton. It is highly favoured for its breathability, softness, and durability. Cotton bedsheets allow air to circulate, keeping you cool and comfortable during warm nights. They suit people with sensitive skin or allergies because of the natural fibres' hypoallergenic properties. Additionally, cotton bedsheets are easy to care for and can withstand regular washing and wear.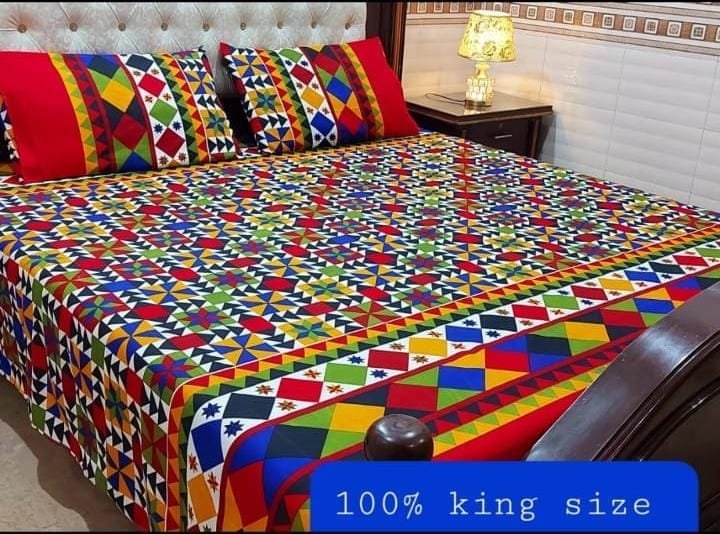 3.2 Silk
Silk bedsheets are another luxurious option in Pakistani bedding. Silk is renowned for its supple and lustrous texture, giving your bedroom a luxury touch. Pakistani silk bedsheets often feature delicate embroidery and intricate designs, making them a statement piece in any decor. Silk bedsheets are ideal for those who prefer a more prosperous and indulgent sleeping experience.
1. Popular Types of Traditional Pakistani Bedsheets
Several types of Traditional Pakistani Bedsheets have gained popularity due to their unique characteristics and regional significance.
4.1 Sindhi Ajrak Bedsheets
Sindhi Ajrak bedsheets are renowned for their distinctive block-printed patterns and rich colour combinations. The traditional Ajrak motifs, such as stars, flowers, and geometric shapes, are meticulously hand-printed using natural dyes. These bed sheets are visually appealing and hold cultural and symbolic significance in Sindhi traditions.
4.2 Multani Khaddar Bedsheets
Multani Khaddar bedsheets are crafted from hand-spun and handwoven khaddar fabric. Khaddar is known for its rough texture and ability to regulate body temperature, making it suitable for warm and cold climates. Multani Khaddar bedsheets often feature earthy tones and traditional geometric patterns, representing the heritage of Multan, a city in Punjab, Pakistan.
4.3 Chitrali Patti Bedsheets
Chitrali Patti bedsheets originate from the Chitral region in northern Pakistan. These bed sheets are characterized by intricate threadwork and patchwork embroidery. Chitrali Patti bedsheets often showcase vibrant colours and floral motifs, reflecting the region's natural beauty.
1. Incorporating Traditional Pakistani Bedsheets into Your Bedroom Decor
To create a cohesive and visually appealing bedroom decor, consider the following tips when incorporating Traditional Pakistani Bedsheets:
5.1 Bedding Sets and Accessories
Opt for complete bedding sets, including pillowcases, shams, bed covers, and bed sheets. It ensures a coordinated look and adds a touch of elegance to your bed. Additionally, consider adding complementary accessories such as embroidered cushions or a bed runner to enhance the overall aesthetic.
5.2 Color Coordination and Styling
Select a colour scheme that complements your bedroom decor and personal taste. Traditional Pakistani Bedsheets come in various colours, from vibrant bold to subtle and muted. Choose colours that create a harmonious and inviting atmosphere in your bedroom. Consider incorporating elements from the bedsheets into other decor items like curtains or rugs for a cohesive look.
1. The Benefits of Using Traditional Pakistani Bedsheets
Using traditional Pakistani bedsheets offers numerous benefits beyond their aesthetic appeal. Let's explore some of these advantages:
handcrafted by skilled artisans who have inherited their expertise from previous generations. By purchasing Pakistani bedsheets, you contribute to the livelihoods of these artisans and help sustain traditional craftsmanship.
1. Care and Maintenance of Traditional Pakistani Bedsheets
To ensure the longevity and beauty of your Pakistani bedsheets, follow these care and maintenance guidelines:
7.1 Washing and Drying
Most Pakistani bedsheets can be machine-washed using a gentle cycle and mild detergent. It is advisable to separate them from other garments to avoid potential colour bleeding. For embroidered bedsheets, consider placing them in a mesh laundry bag to protect the delicate embellishments. After washing, line-dry the bedsheets in the shade to prevent fading. Avoid harsh chemicals or bleach, which may damage the fabric and embroidery.
7.2 Storing and Preservation
When not in use, store your Pakistani bedsheets in a cool, dry place to protect them from moisture and pests. Folding them neatly and placing them in a cotton or linen storage bag helps prevent creasing. Avoid putting them in plastic bags when keeping them since they can retain moisture and cause mould or mildew to grow. Rotate the bedsheets regularly to ensure even usage and prevent excessive wear in specific areas.
Conclusion
Traditional Pakistani bedsheets uniquely blend cultural heritage, artistry, and comfort. These exquisite textiles bring a touch of tradition and artistic flair to your bedroom decor, transforming it into a visual masterpiece. Whether it's the intricate embroidery, vibrant colours, or natural fibres, Pakistani bedsheets showcase the rich diversity and craftsmanship of the country. By incorporating them into your bedding, you enhance your sleep environment, support local artisans, and preserve a vibrant cultural legacy.
FAQs
1. How do I choose the right size of Pakistani bedsheets?
When selecting Pakistani bedsheets, consider the dimensions of your mattress. There are four standard sizes: Twin, Full, Queen, and King. Measure your mattress's length, width, and height to ensure a proper fit.
1. Are Traditional Pakistani Bedsheets suitable for all seasons?
Yes, Pakistani bedsheets are versatile and can be used throughout the year. Cotton bedsheets are breathable and ideal for warm weather, while khaddar or silk bedsheets provide warmth during colder seasons.
1. Can I find Traditional Pakistani Bedsheets online?
Yes, numerous online platforms offer a wide range of Pakistani bedsheets. Look for reputable sellers or visit websites specializing in traditional textiles and home decor.
1. Are these bedsheets hypoallergenic?
Cotton bedsheets, commonly used in Pakistani textiles, are generally hypoallergenic. However, checking the product description or labels for specific information regarding hypoallergenic properties is always advisable.
1. Can I use Traditional Pakistani Bedsheets in modern or contemporary decor?
Absolutely! Pakistani bedsheets can add a unique cultural touch to any style of decor. Mix and match with modern elements to create an eclectic look, or use them as statement pieces in a contemporary setting. The vibrant colours and intricate designs infuse your space with character and warmth.