Designer Bedsheets in Pakistan to Add a Touch of Elegance to Your Bedroom
Introduction to Designer Bedsheets
Attention to detail is crucial in creating a harmonious and visually appealing space in home decor. The selection of Designer Bedsheets is one frequently ignored factor that has a significant impact on the atmosphere of a bedroom. With the growing popularity of Designer Bedsheets in Pakistan, homeowners now have the opportunity to elevate their bedroom decor to new heights. In this post, we will go into the realm of designer bedsheets and cover their types, benefits, things to think about when buying them, top Pakistani brands, where to get them, and care advice.
Types of Designer Bedsheets
1. Cotton Bedsheets:
– Breathable and comfortable, ideal for all seasons.
– Available in various weaves like percale, sateen, and flannel.
– Known for their durability and easy maintenance.
2. Silk Bedsheets:
– Exude elegance and luxury.
– Provide a smooth and soft feel against the skin.
– Regulate body temperature, keeping you cool in summers and warm in winters.
3. Satin Bedsheets:
– Boast a lustrous and silky texture.
– Enhance the visual appeal of the bedroom.
– Offer a luxurious and opulent sleeping experience.
4. Printed Bedsheets:
– Give the bedroom a splash of colour and individuality.
– Obtainable in a wide variety of patterns and designs.
– Perfect for those who prefer vibrant and bold aesthetics.
5. Embroidered Bedsheets:
– Showcase intricate designs and craftsmanship.
– Enhance the bedroom with a bit of sophistication and creativity.
– Often feature beautiful embellishments and detailed embroidery work.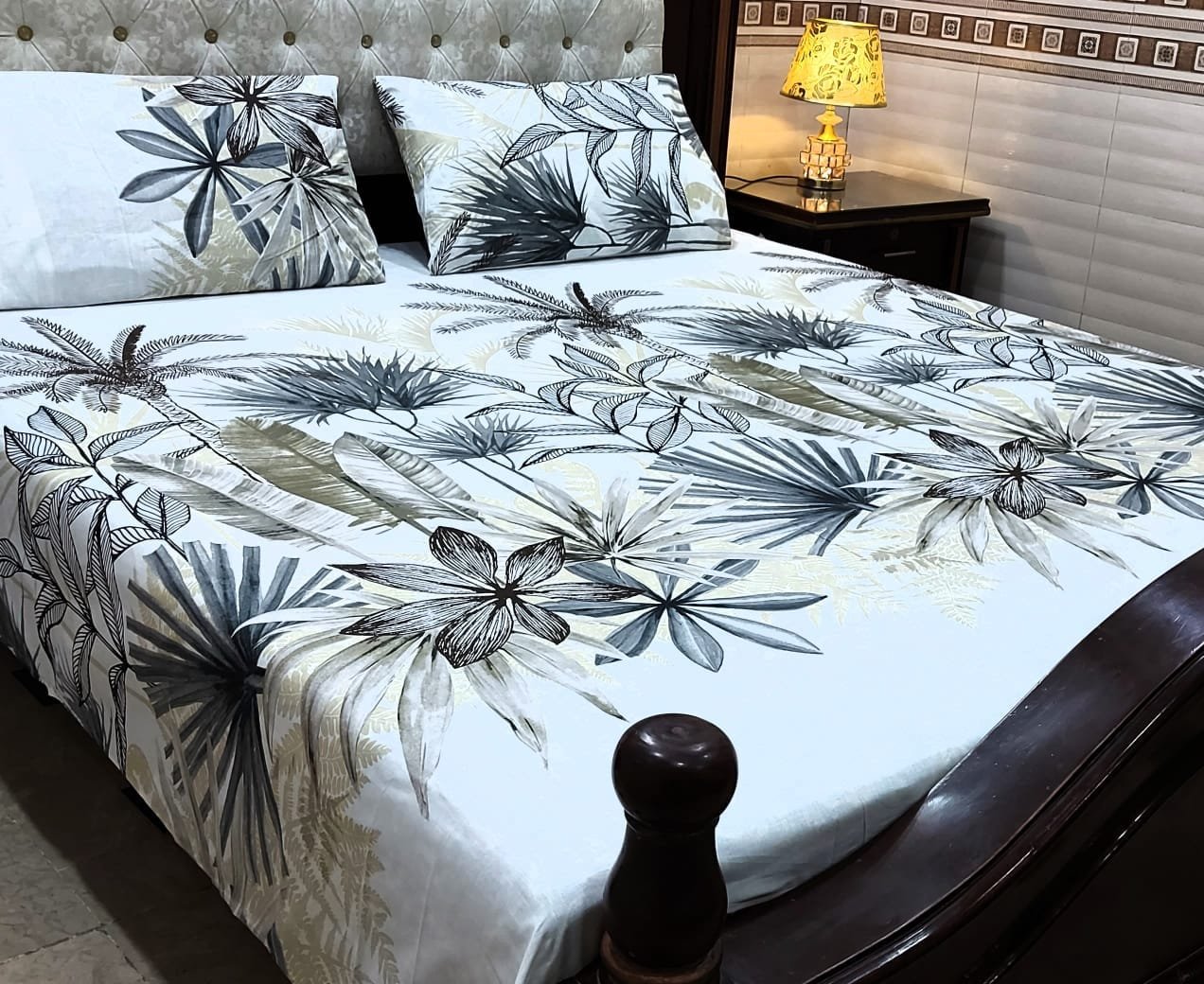 Factors to Consider When Buying Designered Bedsheets
When choosing designer bedsheets for your bedroom, keep the following factors in mind:
1. Material Quality:
– Opt for high-quality fabrics that ensure durability and comfort.
– Check for fabric certifications like Egyptian cotton or pure silk.
2. Thread Count:
– Consider bedsheets with a higher thread count for a softer and smoother feel.
– Higher thread count often indicates better quality and longevity.
3. Design and Patterns:
– Select a design that complements your bedroom's theme and colour palette.
– Choose patterns that resonate with your style and taste.
4. Color Coordination with the Bedroom:
– Ensure that the bedsheets' colours blend harmoniously with the overall bedroom decor.
5. Maintenance and Care Instructions:
– Check the washing and care instructions provided by the manufacturer.
– Consider bedsheets that are easy to clean and maintain.
Benefits of Designed Bedsheets
Investing in designered bedsheets can bring several benefits to your bedroom and overall well-being:
1. Enhance the Aesthetic Appeal of the Bedroom:
– Designered bedsheets add a touch of elegance, style, and sophistication to your bedroom decor.
– They serve as focal points and create a visually pleasing environment.
2. Provide Comfort and Luxury:
– High-quality fabrics in designered bedsheets offer exceptional comfort and a luxurious feel.
– They contribute to a peaceful and rejuvenating sleep experience.
3. Reflect Personal Style and Taste:
– Designer bed sheets come in various designs, patterns, and colours.- They allow you to demonstrate your decorating style and personality.
4. Boost Mood and Relaxation:
– Surrounding yourself with aesthetically pleasing and comfortable bedsheets can positively impact your mood and overall relaxation.
– The soothing colours, soft textures, and appealing designs create a serene atmosphere.
Top emerging Brands for Designered Bedsheets in Pakistan
When it comes to designer bedsheets, several renowned brands in Pakistan offer exceptional quality and exquisite designs:
1. GlorifyYou Bedding:
– GlorifyYou Bedding is known for its luxurious range of designer bedsheets crafted from premium fabrics.
– Their collections feature elegant patterns, rich colours, and attention to detail.
2. GlorifyYou Home Textiles:
   – GlorifyYou Home Textiles specializes in creating designer sheets that combine comfort with style.
– Their collections cater to diverse preferences, ensuring something for everyone.
Where to Buy Designer Bedsheets in Pakistan
You can find designer bedsheets in Pakistan through various avenues:
1. Local Retail Stores:
– Visit home decor and bedding stores in your local area.
– Explore their collections, feel the fabrics, and choose the designs that resonate with you.
2. Online Marketplaces:
– Browse popular online marketplaces like GlorifyYou.
   – These platforms offer a wide selection of designer sheets with convenient delivery options.
3. Brand Websites:
– Visit the official websites of renowned brands like GlorifyYou Bedding, GlorifyYou Home Textiles.
– Explore their catalogues, view the latest designs, and purchase directly from their websites.
Tips for Maintaining Designered Bedsheets
To ensure the longevity and pristine condition of your designer bedsheets, follow these maintenance tips:
1. Proper Washing and Drying Techniques:
– Follow the manufacturer's instructions regarding washing temperature, detergents, and drying methods.
– Use gentle cycles and mild detergents to avoid damage to the fabric.
2. Ironing and Storing Guidelines:
– Iron your bedsheets using appropriate settings to maintain their smoothness and appearance.
– Store them in an excellent, dry location to avoid moisture and dust buildup.
Conclusion
Designer bedsheets have become famous for homeowners in Pakistan seeking to elevate their bedroom decor. By carefully selecting the right type and considering factors such as material quality, design, and colour coordination, you can add a touch of elegance and personal style to your bedroom. Choose from reputable brands like GlorifyYou Bedding, GlorifyYou Home Textiles. Collection and follow proper maintenance and care instructions to ensure they last for years. With designer bedsheets, you can transform your bedroom into a serene and stylish haven that promotes relaxation and a restful night's sleep.
FAQs:
1. Why should I invest in designed bedsheets instead of regular ones?
Designer bedsheets are crafted from high-quality materials, offer luxurious comfort, and elevate the aesthetic appeal of your bedroom. They also reflect your taste and style.
2. What types of fabrics are used in designed bedsheets?
Designer bedsheets are made from various fabrics, including cotton, silk, linen, and microfiber.
3. Store them in an excellent, dry location to avoid moisture and dust buildup.
Think about the general design and colour scheme of your bedroom and your preferences and aesthetics. Look for designs and colours that complement and enhance the existing elements in your bedroom.
4. Can I find designed bedsheets in affordable price ranges?
Several brands offer designer bedsheets in various price ranges, making them accessible to more customers.
5. How often should I wash my designed bedsheets?
It's recommended to wash your bedsheets once a week to maintain their cleanliness and freshness. However, always check the washing instructions provided by the manufacturer.